Pot are the best planters who don't have direct soil to plant their tiny plants. I had a bunch of tiny little pots. I used them as planters for small plants and succulents in my house.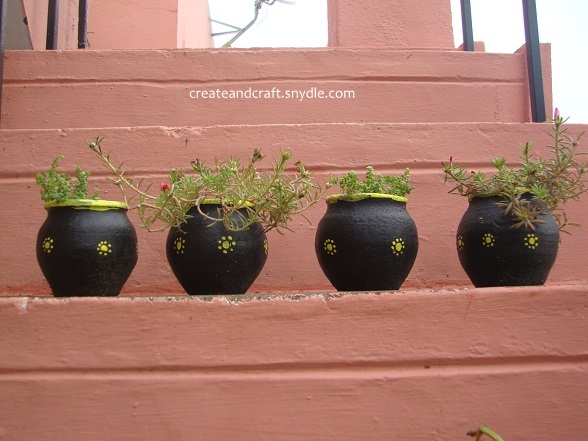 These pots are adorable for the pretty shape and the tiny size. To make it even more attractive I made simple paintings on them. I had plenty of them so I chose a very simple design. You can do any kind of doodling and let your imagination play the game.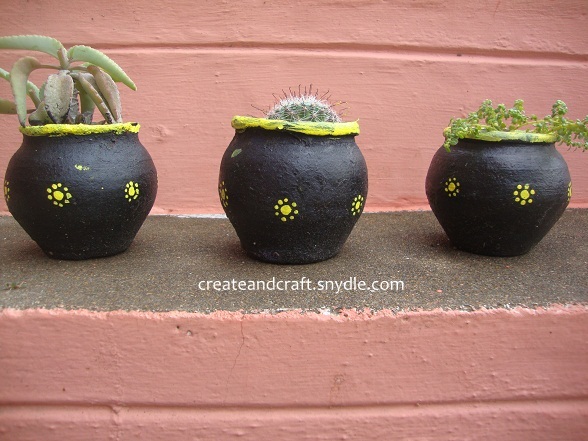 Here is how I made them.
Supplies Required :
Tiny mud pots
All purpose paint (Black and yellow)
Brush two sizes (Broad and 5mm)
Sand paper.
Soil/Dirt
Tiny plants/Succulents
Method :
Pick your little pots and rub its outsides with Sand paper a little to smoothen it
Apply a primer on all the pots
Let them dry.
Use broad brush to paint Black colour(You can paint any of your favourite  background colour) on all the pots.
No need to paint the bottom
Let it dry for an hour and then start your designing
I did a simple design with yellow dots on black background and the contrast combination was amazing and it looks attractive
I even painted the brim of the pots with the yellow colour.
After designing let them dry for 20 mins.
Now the planters are ready fill in t he soil and plant your favourite plants on them.
They look even more cute now.
I arranged them along my steps. They make my railings look even more prettier.
Love these cuties. Try your own and add colour to your roof gardens 🙂
Happy crafting