Mason Jars are one of the best adorable vintage charm I love. Originally they were meant for canning to preserve food. But these tiny little jars are so handy and easily affordable, that our minds come up with zillions of ideas to repurpose them more than just using them for canning. I have chosen and listed my ten favourite and creative ideas for reusing/ repurposing Mason jars. I bet after reading this post you will be searching for those Mason jars around your house to make one of these projects. These are such adorable ideas everyone would love them. So here comes the list.
#1 Storage Shelf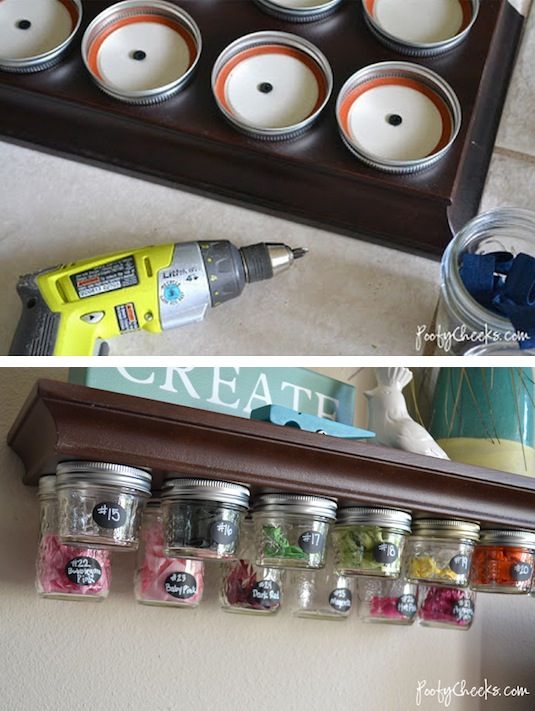 Storing tiny assortment of items is a headache anywhere either it be a craft room or a garage with nuts and tools or it be your sewing room. Anywhere these Mason Jars will be loads of help in storing tiny items. But instead of storing them on the shelves or over the table, this amazing tutorial teaches us how to utilize the unused space below the shelf. It is simple just screw the lids of the jars to the bottom of the shelf and close the jars to the lids.
Source & Instructions: Poofy Cheeks
#2 Soap Dispensers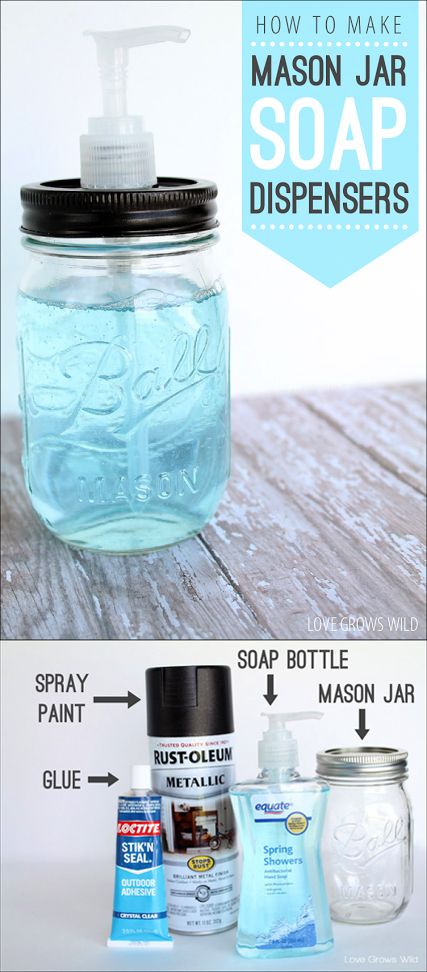 This is one of the traditional repurposing of Mason jars. I will love these glass jars soap dispensers than the regular plastic soap dispensers. They are customizable and give a vintage look that anybody will love. The look through glass helps us know when the soap is getting over. We can even tint the glass or paint the lid and customize it to our choice.
Source & Instructions: Love Grows Wild
#3 Chalk Label Spice Jars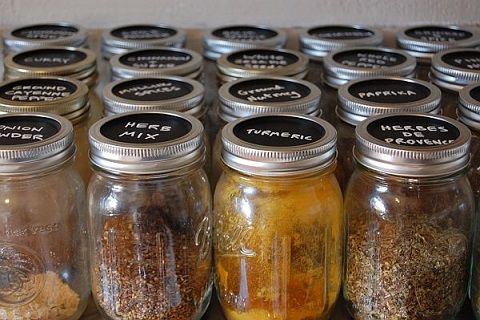 Storing is the main purpose of Mason jars. As I said earlier storing of spices is in these jars is the idea followed in many kitchens where they buy spices in lots. But labeling the jars with chalk board lids is a creative idea to organize them so we can save time in searching for the right spice also they are rewritable unlike sharpies they are not permanent and hence we can easily swap jars.
Source & Instructions: Style Lush Blog
#4 Bathroom Storage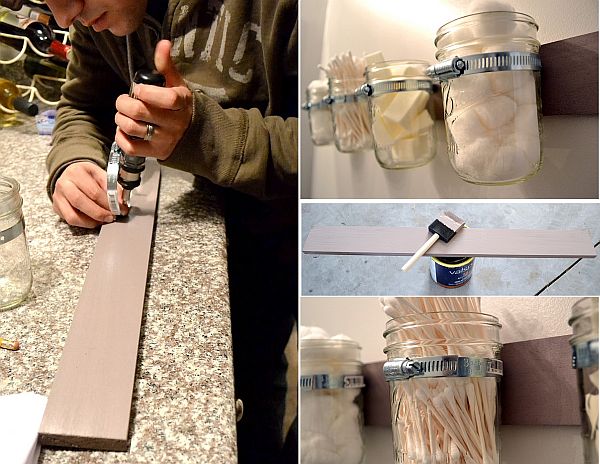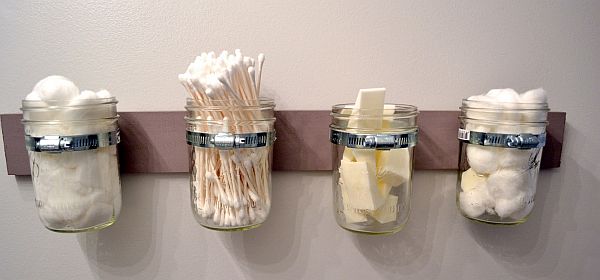 Here is another storage idea but in a different way. This is for a different purpose to store items you require in your bathrooms like cotton swabs, ear buds. It is done by attaching big pipe clamps onto a plank of wood and hanging the wood plank on the bathroom wall. The mason jars fits inside these clamps and we can fill in anything we need to this see through jars
Source & Instructions: Lizmarie Galvan Blog
#5 Wall Planter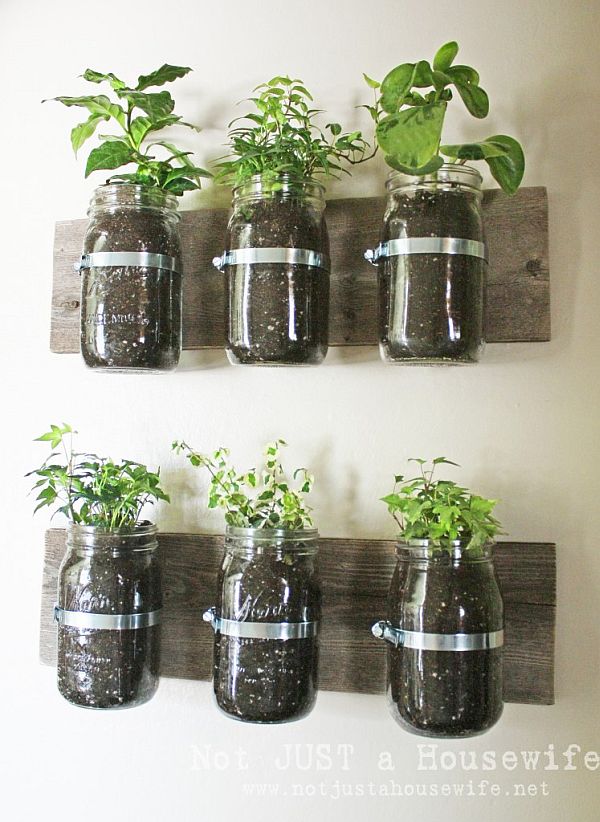 This is a nice idea for those who have a green thumb. You can have tiny plants and herbs inside your house or even inside your kitchen with these Mason jar planters clamped to the wall. Those who don't have space for growing plants or those who use every space available to grow plants can utilize this idea.
Source & Instructions: Not Just a house wife
#6 Mason Jar Candle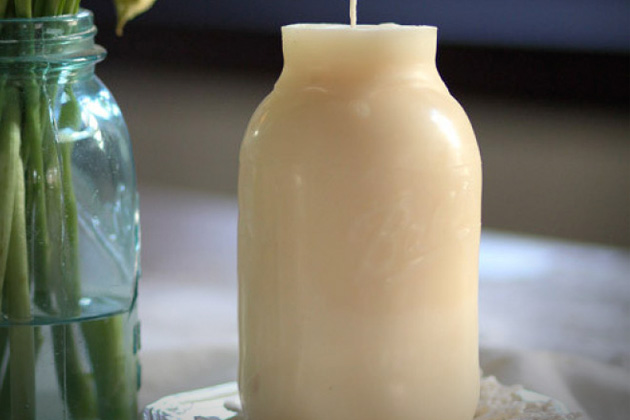 This jar shaped candle without the glass looks more attractive and amazing. It would make a lovely centerpiece for a vintage table/Mantel arrangement. It can also be a great gift.
Source & Instructions: Huffington Post
#7 Match Stick Holder with strike on lid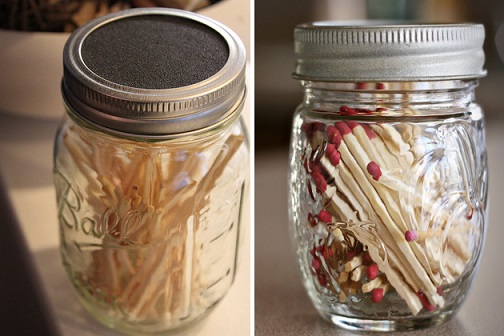 Storing match sticks inside mason jars can prevent them from getting damp and what best it can also have a strike on lid. Just insert a sand paper between the two lids. You can also change this lid any number of times when it gets worn out. It can be handy during camping!
Source & Instructions: Pinterest
#8 Oil Lamps for Indoors or Outdoors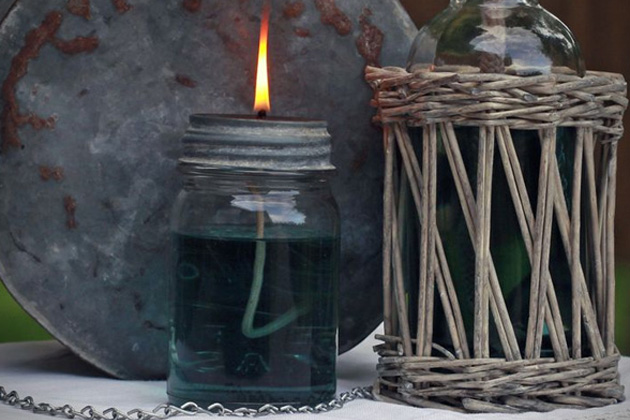 Oil lamps are one of the best alternatives for candles and they last longer than the long lasting candles and they are refillable. Mason jar is the best material to make a DIY oil lamp. Anything which is DIY is adorable. And a lamp with scented oils can be used for indoors. These lamps will be of great help during camping.
Source & Instructions: Put it in a Jar
#9 Picture Frame Vase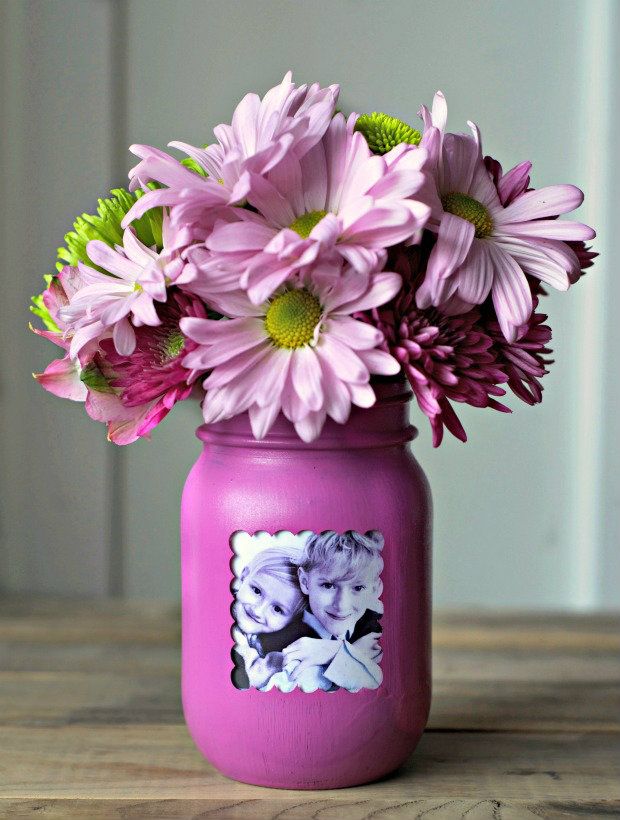 Glass jars can be used as picture frames /picture holders because they are look through and these frames can also serve another purpose Vases. Creating vases which doubles as picture frames is a super cool idea.
Source & Instructions: Home Stories A to Z
#10 Toothbrush Holder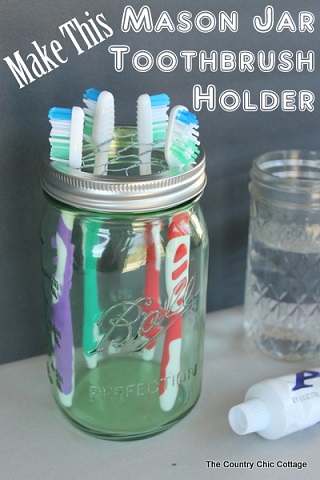 This is a super easy idea. Anybody would need a toothbrush holder. You can make it yourself with Mason jars and a piece of wire mesh. It hardly takes few mins.
Source & Instructions: The Country Chic Cottage
We have come to the end of the list. Its time to pick your own mason jar and make a recycle project. Choose your favourite one and start making.
Happy crafting