I feel greeting cards are the best way to convey your wishes to your loved ones who are away. To make a greeting all by yourself is wonderful feeling. It makes you feel good when you gift someone your hand made greeting. You might even feel proud about your creation 🙂 So I wanted you all to make a greeting card and present to your loved ones for the next occasion. Don't worry I will show you I made this simple card. You should make one and send it through post. It will definitely delight the one who receives it  ! Ok now off to the tutorial.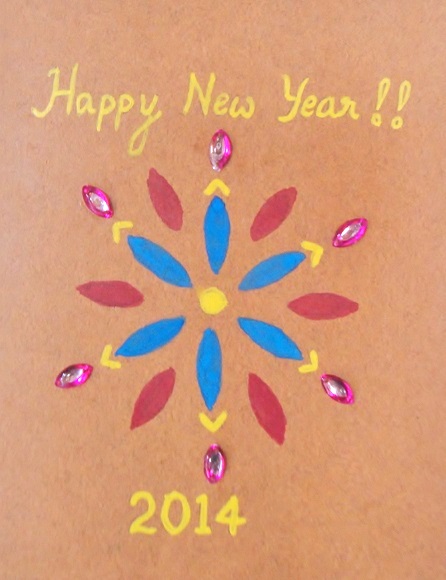 Things you will need :
Card Stock (any colour of your choice)
Water colour paint
Paint Brush
Rhine stones /Kundan
Craft Glue
My Method :
Take a thick cardstock or chart paper of any colour of your choice.
Fold it into two halves
Front side of the card goes for the decoration
Inside is for your personal message or wishes
I wanted the card to be neat and simple so I chose a very simple painting design to decorate the front side.
First draw the rough sketch of the design on the cardstock with pencil. Mine is a simple floral pattern. You can use any design of your choice
Once a rough sketch is ready start painting on the design with water colour.
Let it dry and add more layers If you want a thick colour.
After completing the painting work. Stick some khundan/ RhineStones on it for added attraction.
I wrote the happy new year also in pencil and then painted it with a thin brush.
There are so many other options you can use to decorate your card like glitters, colour papers, craft punches etc.
I wanted it to be simple so I just used paint and khundan stones.
This an all time greeting card. You can make this for any occasion. 🙂
Make your own card and gift your loved ones. Tell me how you liked it.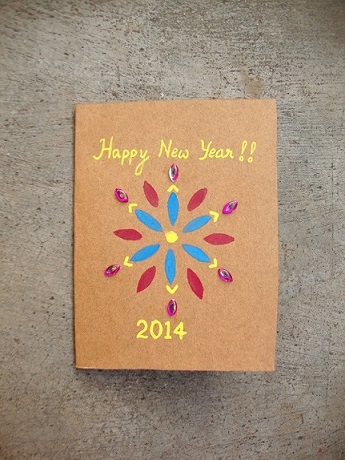 Happy crafting