Hello 🙂
Tomorrow is Thanksgiving day so I wanted to share with you the Thank giving greeting card I made for my friends. Its really very simple and pretty card I made with the water colours.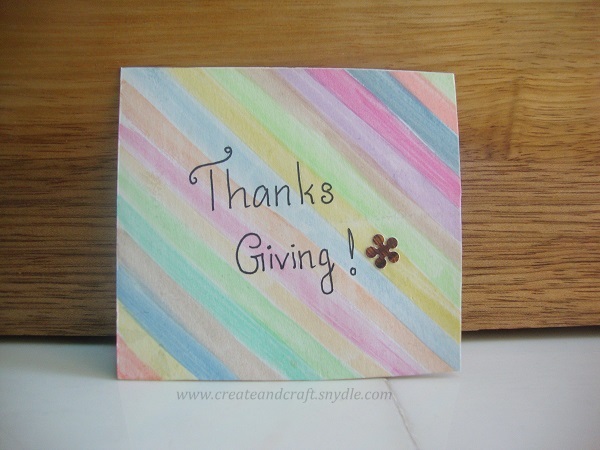 Supplies Required :
Card stock
Water colour
Brush
Scissors
Floral punch (Optional)
My Methodto make this happy thanksgiving card
Take a card stock.
Start painting strokes of different colours diagonally one below the other of approximately 0.5 cm thickness
I used cake water colours they are amazing
I started with the red colour and continued to paint all the available colours in my paint box in random combinations
And it turned out pretty nice
After it dries I cut out a nice square out of it
I added a quote saying "Thanks Giving !" on the card
Then a small floral punch as a tiny embellishment.
That's it simple pretty Thanks Giving greeting card ready in like hardly 5 mins 🙂
Easy isn't it no difficult painting skills required. No costly craft stuffs. Very simple and so pretty I love it
I turned the card and wrote all the wishes and posted the card to my lovely friends 🙂
Good luck on making your own greeting cards.They mean more than Hallmark cards!
Happy crafting