Craft punches are the amazing tool for any crafter. Initially I was skeptic but eventually I got fascinated to buy a couple of them and I love it. It makes the work so much easier and Such pretty outcomes so many more possibilities of crafts name it anything craft punches can add a fascinating touch to the craft. I got one flower punch and a heart shaped punch they were a bit costlier but I had to admit, the way they come in handy for my last minute crafts or handmade gifts and greeting cards its amazing to see how a few craft punches can make my greeting cards look beautiful and gracefully pretty. Now I am hell-bent to buy few more of them. So here is one of my initial experiments with the new craft punches. I was so excited to use them and the instant immediate craft that comes to my mind was bookmarks. I love reading books always and so I am obsessed with making bookmarks as well. Whenever I feel like having a mini-craft-break which is nothing but make a tiny two minutes craft to relax my mind and take it off from any stress. Yup and most of my mini-crafts would be either greeting cards or bookmarks those are the quicker crafts and handy gifts too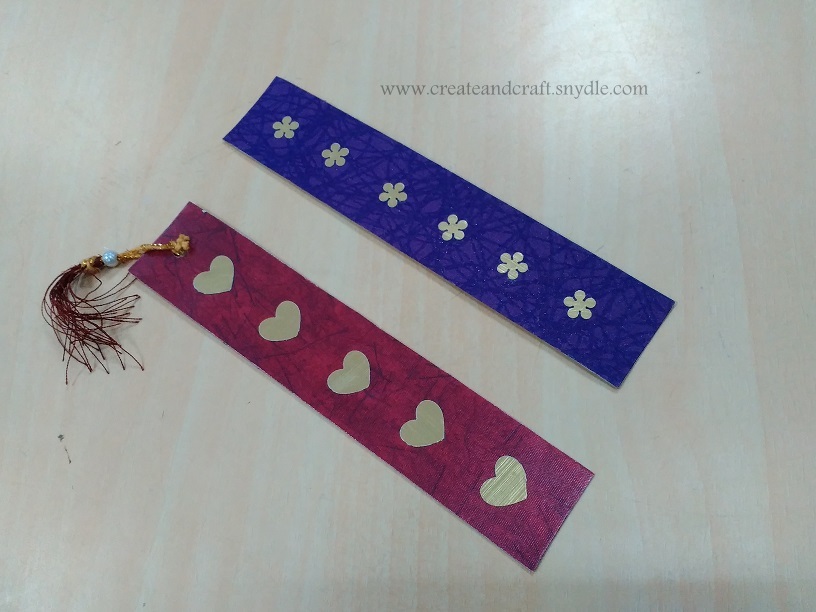 I have tried many different bookmarks water colour painted ones , stencil cuttings , pattern based and many more of them so this time I wanted to try making bookmarks using my new found craft tool the "CRAFT PUNCHES". I love them. Lets look at the bookmarks I made with them help of them
Supplies Required:
Craft Punches
Card stocks (Even scraps will do we just need them for bookmarks so anything you find)
I have taken three different colours of card stocks golden,purple and maroon colour
Craft Glue
Ordinary whole punch
Satin Ribbon (or anything of that sort hanging from your bookmark)
My Method :
Almost all the supplies we will have handy except for the craft punch if you still haven't got one ( Go grab one for yourself you will never regret it )
I had three different colours of card stocks golden purple and maroon
I mixed two pairs of them to make the bookmarks (purple-gold and maroon-gold)
First I punched out Floral punches from the golden card stock and used the negative spaces above the purple and maroon card stocks and the contrast turned out pretty
One side of the book mark was empty so added a thin strip of the colour card stock that lay underneath this negative space of the golden bookmarks
One combination of Golden pair of bookmarks were ready.
Next I thought of using the cut of punches of flowers and hearts so I took them and pasted on the center of the colour cardstocks purple and maroon
Thats it beautiful combination of four colourful bookmarks ready
This is an optional step I added a regular hole punch on the top of the bookmark and added a tiny hanging thread with beads 🙂 and it turned out more girly and pretty !
How did you like my craft punch bookmarks ? What all crafts have you tried with the craft punches ?
Happy crafting