Any desk would require a desk organiser be it an office desk or home desk or study table or home office anywhere a desk will contain a desk organiser if not a simple pen holder. Most of us would gift a desk organiser to our friends and cousins for their first job. It would be the best gift and functional as well anyone who goes to a new job would need that. Its a fact everyone of us need a desk organiser either for our office or for the study table or the craft table or whatever place a desk is never complete without a desk organiser or Just a pen stand will also do. Anyway we all need the desk organiser why don't we go a step ahead and make one ourselves ?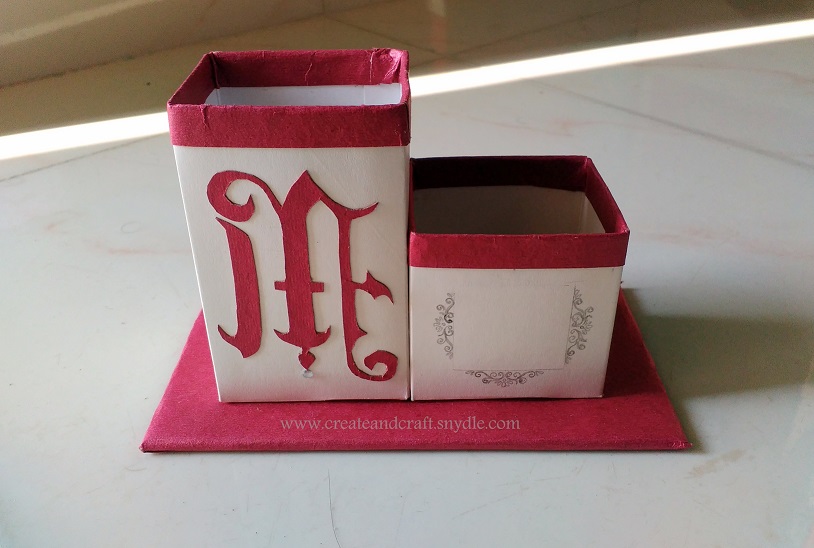 How about a beautiful customised desk organiser with your favourite colour and design on it ? Will it not be amazing ? You can even make one and gift your buddy, everytime he looks at the gift it reminds of you 🙂
So todays project is to make a simple and cute personalised custom made Desk Organiser. A Pen holder along with a tiny extra socket for holding the its and bits like eraser sharpener gem clip etc.
Supplies Required :
Empty cookie box
Cardboard
Craft Glue
Handmade paper (colours/texture of your choice)
Craft Cutter
Scissors
My Method : 
I took a empty cookie box and cut it into two halves not equal halves. 3/4 and 1/4 is the size of the two partitions
The taller partition is for holding the pens (3/4th piece)
The shorter/ smaller part is for holding tiny its and bits (1/4th piece)
Take a rectangular board and cover it with the handmade paper this will form the base of the desk organiser
Cover the two parts of the cookie box with handmade paper and decorate it
Place them both side by side and stick them together
I also stuck two small pieces of cardboard at the bottom of the two box pieces for sturdy base
Now these two pieces were stuck on the center of the already covered cardboard base
Almost done Final touch ups and decorations are yet to be done
I made this desk organiser as a gift for my cousin brother – my best buddy for his office desk.
If I had made this for a girl I might ave decorated it in pink little floral and some glittery additions might have been there
Since its for my brother I wanted it to be simple and neat a bit boyish yet personalised and professional look for the office desk.
So many requirements in mind it was tough to choose a decorative design for it.
Finally I decided to put a monogram and my favourite photo of him on it
I carved out a beautiful Monogram design from the same handmade paper and stuck it on the Pen holder
Then I took a tiny print of my favourite photo of him and pasted it on the itsy-bitsy compartment
Then I added a few designs around the photo to highlight it as well as to fill in the empty space around the photo
Thats it Amazing handmade DIY desk orgniser ready !
Make one for yourself and a few for your friends and gift them to them.
Happy crafting