Its womens day tomorrow and I decided to make some paper jumkhee earrings to gift my cousins (ladies of course). Pinks and girls always go hand in hand so i chose pink paper and pearls for making this women's day earrings gift  .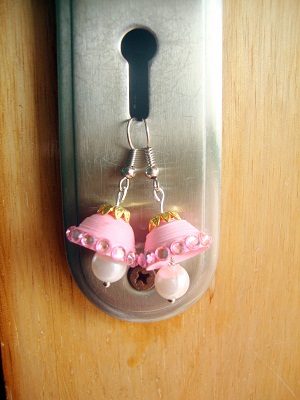 Supplies required:
Quilling paper – Pink 3mm
Head pins
Eye pins
Ear hooks
Jumkhee cap
pearl beads
Pink Rhine stones
Wire cutter
Pliers
My Method :
Roll the pink colour paper first into a tight circle using quilling needle continue rolling second paper into a tight circle
Secure the end of the paper with glue.
Give a slight push in the middle of the circle from one side and raise it above to form the bell like shape for the earring. Precast doom moulds are also available we can use them also for forming the jumkhee shape 

I made 10 no of jumkhees for 5 pair of earrings

Mix white glue and water in the ratio 2:1. Apply this mixture on the jumkhees and let them dry this is for keeping them in shape
Insert a white pearl bead into a head pin and form a loop and cut the excess wire this forms the hanging part
Connect the hanging bead loop with an eye pin end. Now insert the doom shaped paper through top of the eye pin
Insert a jumkhee cap over the paper doom now form a loop of the eye pin above the cap
Insert the Ear hook in the loop above the paper bell.
Apply varnish on the earring with a small paint brush. This is to make your earring resistant to water.
Thats it earring ready !
Pack them in tiny packets with a message tag. Write down the wishes in the tag and gift them. 
I loved these earrings these make wonderful gifts for ur girl buddies !
Happy crafting