Its been long time since we made a recycle craft so thought of trying one simple and easy recycle craft. Newspaper is one of the best recycle supply we have in abundant, So I chose it as my main supply for today's craft. Here you can see how to make a newspaper wall hanging.
Paper Wall hanging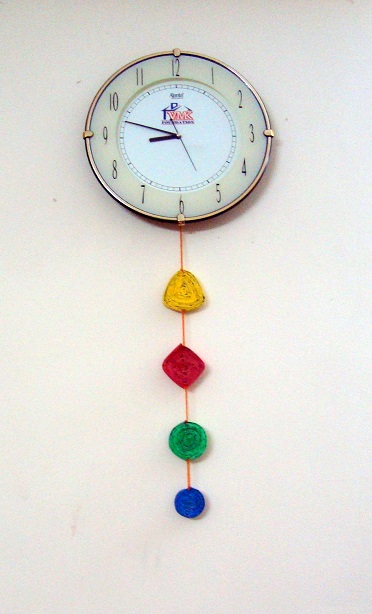 We will make a newspaper hanging with old newspapers few painting supllies and friends to help.It would be a fun activity to involve kids in this project.It is similar to making newspaper coasters. Lets get into the fun 🙂Supplies required:
Old Newspaper
Acrylic paint
Glue
Woolen thread
how to make wall hangings:
Its really simple as i told even kids can make it.Basically the wall hanging is made by coiling newspaper strips into various shaped coaster and hanging them together.First lets see how to make the newspaper strips
Cut the newspaper horizontally into 4 pieces so that you can make 4 strips with one page.
Keep folding the paper until you get thick strips of size approximately 1cm
Make many strips and keep it aside.
Now start making coasters of different shape by coiling and gluing the strips.
I made One triangle one square and two circles one big and one small one.
Making circle is easier, but other shapes you have to make carefully, from the beginning you should try to maintain the shape.
Once all the shapes are made by continuously rolling and gluing the strips its time to paint them all
I chose the primary colours Red yellow blue and green
After painting let them dry for atleast an hour
Connect them all using the woolen thread or any thick thread you have
Everything is ready hang it of !
Colourful-Recycled-Wall -Hanging ready 🙂
There are many crafts you can make this way let your creativity out.